When I started reading The World That Never Was: A True Story of Dreamers, Schemers, Anarchists and Secret Agents by Alex Butterworth, I wasn't thinking of Egypt. The Tunisian revolution hadn't happened yet (it's kind of a long, slow read; more on that later). I admit to taking Butterworth's introductory claim for the modern relevence of historical revolutionaries with more than a few grains of salt, yet it's proved a more timely piece than probably even the author anticipated. Of course, Butterworth means us to consider the anarchist philosophy of 'propaganda by deed' alongside our modern conception of terrorism, but today I'm more inclined to contemplate the consequenses of popular uprisings, past and present.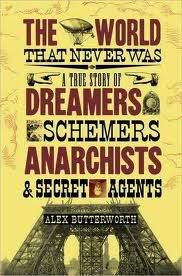 The World That Never Was relates the history of the anarchist movement in Europe from the Paris Commune in 1871 to the Russian Revolution in 1917. Sort of. It takes a few detours out of Europe (to New Caledonia, and to the U.S.), and it doesn't have anything to say about Spain, for example, which may have some kind of anarchist history, I don't know. So, mostly French and Russian anarchists, with some English and American ones, and a few Italians thrown in. Butterworth also wants to talk about a couple of those secret agents mentioned in the title, which mostly means Pyotr Rachkovsky, the Paris head of the Okhrana (the Tzarist secret police) for most of that era.  He was big into running moles in anarchist organizations; also forgers, agents provocateurs, and honey traps; and he was probably responsible for either the creation or the spread (or both) of The Protocols of the Elders of Zion.
This is not a history of the development of anarchist ideology. And, although I complained about Butterworth juicing up the scenes (describing beards as 'fulsome' and atmospheres as 'fugs' and gossiping about everyone's romantic inclinations) while I was reading it, The World That Never Was isn't a historical narrative either. There isn't a thesis, really, and there isn't much of a story. If I were inclined to unkindness, I might speculate that it's pretty much just a chronological recounting of everything the author happened to find in whatever archive he was haunting, with some adjectives and speculation thrown in. It gets boring, is what I'm saying, and I imagine it takes a little work to make explosions and spies and sympathetic snails for goodness' sake! seem dull.
The writing may be dull, but the subject matter is not, and some of that does shine through in places. As we're currently considering the causes and outcomes of revolution now in several countries and coming soon in who knows how many more, it's probably a good idea to bone up on your revolutionary history, and reconsider the words of French geographer and anarchist Élisée Reclus: "In society today you cannot be considered as an honest man by everybody. Either you are a robber, assassin and firebrand with the oppressors, the happy and pot-bellied, or you are a robber, an assassin and a firebrand with the oppressed, the exploited, the suffering and the underfed. It is up to you, you indecicive and frightened man, to choose."