Not at all fiber-related, but this weekend we tried dyeing Easter eggs with natural, food-based dyes that we made ourselves, and I thought I'd share the results: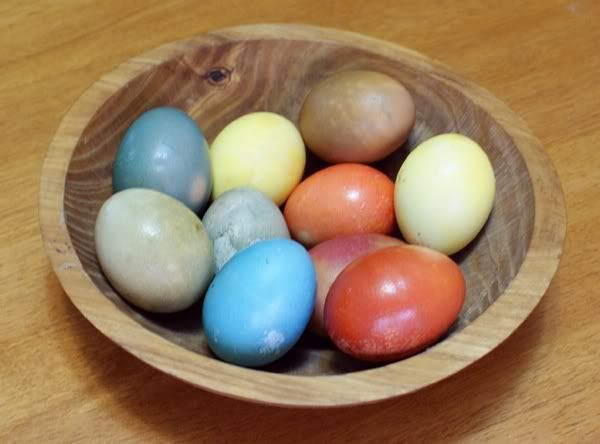 We got the inspiration and instructions from theKitchn, via several friends on Facebook and Pinterest who all apparently had the same idea. Not gonna lie, it was a lot more work than the usual drugstore tablets, and the colors are a little wonky, and it took a lot longer, and the results are speckly and not consistently colorfast. We had a lot of fun messing around in the kitchen, though, and I think the eggs look wonderful and mineral and (duh) natural. The boy commented that if you were having an Easter egg hunt, you could hide them in a rock garden and no one would find them.
So, as per the instructions we boiled our shredded, chopped, or otherwise mangled ingredients in water (I estimated about a cup of water per egg we wanted to dye, and then I added a little extra, maybe a quarter of a cup, because I imagined I'd lose a little in the straining) and then simmered them for ten minutes or so: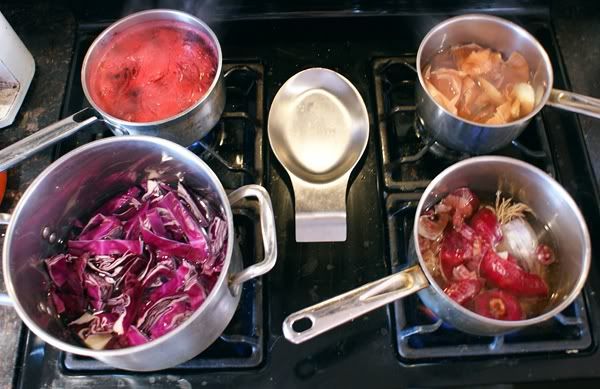 Then we strained them, and added a tablespoon of vinegar per cup of dye. Then we let the dyes come to room temperature (more or less -- we may have been a little impatient) and dunked the hardboiled eggs (we used eight white eggs and four brown eggs -- next year I might go half and half because the brown eggs mostly turned up lovely), which went into the fridge: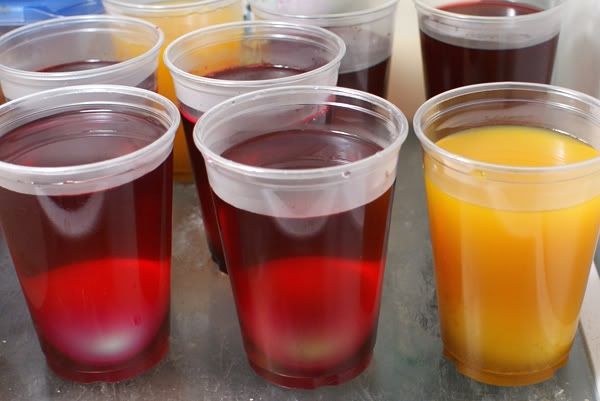 We took a look after a half-hour, but they definitely needed more time, and we had things to do, so they ended up in there for maybe four hours altogether. Next time I would make sure to be around to stir them up every fifteen minutes or so, because several of them developed spots where they were resting against the edge of the cups. Then we took them out and air dried them and then they were done: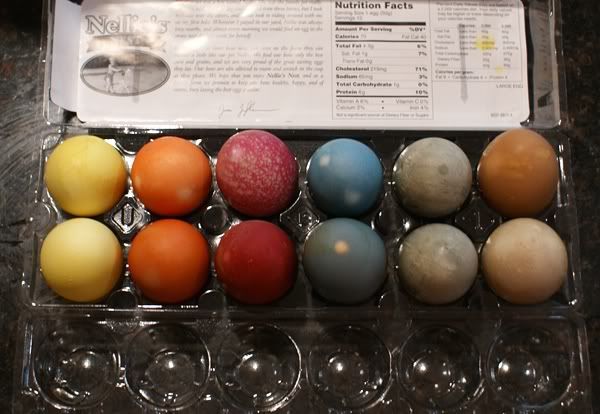 We did two eggs each with each dye, so we used about two cups of water for each color. From left to right we have turmeric (1 TB), yellow onion skins (from two onions), beets (two, shredded), red cabbage leaves (a quarter cabbage, chopped), Red Zinger (hibiscus) tea (6 bags), and red onion skins (from two onions). I think the tea and the red onions both could have used more dye. I've also seen people around the internet using spinach and black beans and paprika, and my brother suggested saffron, so next year we may have to go with two dozen and experiment some more.