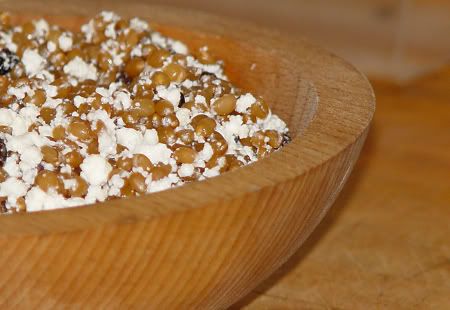 Our weekends are generally hectic, between visiting with family and friends, entertaining the kids, running errands, and doing chores we were supposed to finish during the week but didn't; but it was cold and snowy when we woke up today, so this morning we took it easy, snuggled down, and ate the sort of hearty breakfast guaranteed to keep you warm for the rest of the day.
Also: the blog is called 'pease porridge', so I pretty much had to start off on a porridge-y note.
Cuccía is a robust porridge from Southern Italy, made with wheat berries and fresh ricotta. I love it for brunch; I love it even more now that I've discovered how ridiculously easy it is to make my own homemade ricotta.
This recipe comes from Lynne Rossetto Kasper's wonderful book, The Italian Country Table. She notes that cuccía is eaten all over southern Italy for lunch, dinner, or as a snack. If you've never cooked with wheat berries before, they look like this: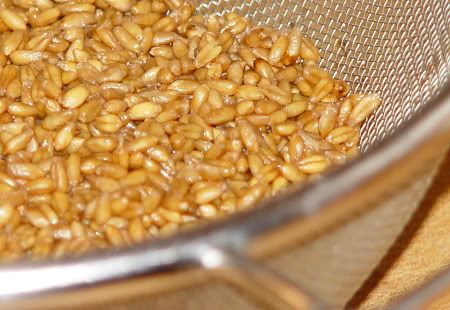 Wheat berries are polished whole wheat, which means that their husks have been removed, but they are otherwise intact grains. Make sure you get hard winter wheat, not soft berries, which are much starchier and, er, softer. When they're done, they are expanded, tender, and a little bit chewy, with a nutty, wheat flavor.
Cuccía
Serves 4 to 6
1 cup (5 oz.) hard wheat berries
Water
1/2 tsp salt
1 1/2 cups fresh ricotta
Honey to taste
1/2 cup currants or raisins
Generous pinch of ground cinnamon
1. Soak the wheat in cold water to cover overnight in the refridgerator.
2. Drain and place in a 3-quart saucepan along with the salt and enough water to cover by 2 to 3 inches. Cook at a slow simmer, partially covered, about 1 hour, or until tender. The kernels will open up slightly.
3. Drain the wheat and combine it with the ricotta. Blend in honey to taste and the currants or raisins. Dust with cinnamon, if desired. Serve warm or at room temperature in small bowls (as with most grains, a little goes a long way).
Variations: the recipe also suggests using vin cotto (a cooked wine syrup) instead of ricotta, or adding shaved chocolate and candied orange rind instead of the currants and cinnamon.