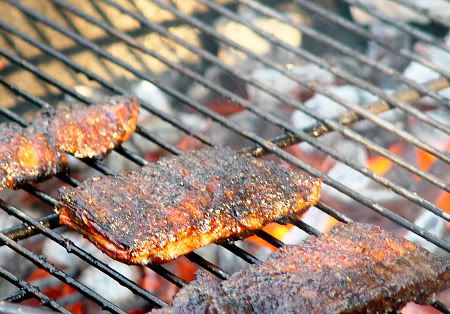 Ana Sortun is one of my favorite chefs, and I'm not generally much of a chef-worshipper. I first ran into her in the pages of a Food & Wine magazine; she had written an amazing menu of vegetarian meze which, when combined, form the Voltron of vegetarian eating experiences. I've had her cookbook, Spice, for a while now, but I've been lame about cooking anything from it.
It's true that some of the recipes have hard-to-find ingredients, and some take some planning ahead, and some are just a lot of work for family dinner, but there are also plenty that are easy enough for everyday, so I've been playing catch-up.
In the introduction to her book, Sortun promises "dishes absolutely alive with flavors that leave guests ready for a night of dancing - not weighted down and ready for bed", and she absolutely delivers. In fact, this food is so amazing I find it hard not to jump up and start dancing after a meal.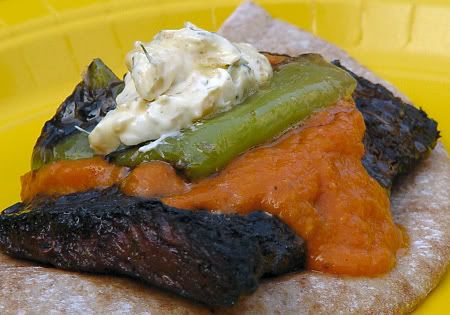 Skirt steak is, as Sortun mentions in this recipe, both flavorful and affordable. Give it a good rub with cumin, oregano and paprika (or Aleppo chilies), and it's pretty good. Top it with a garlicky tomato sauce and brown butter and it's scrumptious. Slide the whole thing onto a thick pita bread to soak up the juices, and crown it with a grilled pepper, and it's amazing, and I think the beet tzatziki topping sent it on to something in the realm of the divine.
Okay, the recipe only calls for plain yogurt, which I'm sure is also heavenly, but since I had the beet tzatziki (about which, more in a later post) around anyway, on it went.
There are several parts to the recipe, but they're all wicked easy, and it came together in about forty-five minutes - it would take even less time if you have one person manning the sauce and another outside grilling. Got your dancing shoes on?
Grilled Skirt Steak with Tomato, Caramelized Butter, and Cumin
serves 4
from Spice by Ana Sortun
4 cups canned diced or whole tomatoes, drained (28 oz.)
2 TB olive oil
2 tsp chopped garlic (about 2 cloves)
1 stick butter
4 long, thin green sweet or hot peppers (or 2 bell peppers)
4 tsp ground cumin
2 tsp dried oregano
1 tsp ground Aleppo chilies or medium-hot paprika
3 lbs skirt steak, trimmed of fat and any silver skin, and cut into 6- to 8-inch pieces*
2 large pita breads, cut in half
1 cup plain yogurt, preferably Greek
1. In a medium saucepan over medium heat, simmer the tomatoes with 1 TB of the olive oil, the garlic, and salt and pepper to taste, for about 20 minutes, until the tomatoes break down and become soft and saucy.
2. Meanwhile, in a small skillet, melt one stick of butter on low heat and simmer for about 12 minutes, until the butter turns nut brown and smells like hazelnuts. The solids will begin to separate and then fall to the bottom. Butter turns from brown to black very quickly, so watch closely. Immediately remove the butter from the heat and strain through a fine sieve into a dry container. Set aside to cool.
3. Stir half of the caramelized butter into the tomato sauce and puree it in a blender until smooth. Taste and reseason with salt and pepper and set aside.
4. In a medium mixing bowl, toss the peppers with the remaining TB of olive oil and season with salt and pepper. Sortun leaves them whole and roasts them in a 375 oven for 8-10 minutes, but I cut them in half, removed the cores, then tossed 'em with the oil, and threw them on the grill. I mean, if you're going to be firing up the grill anyway, you might as well, right?
5. In a small mixing bowl combine the cumin, oregano and chilies/paprika. Sprinkle the skirt steaks evenly on both sides with the spice mixture, salt and pepper.
6. Grill the steaks, or, if it's wintertime, pan sear them.
7. Arrange the pita halves on four plates. Remove the steaks from the grill and rest them on the pita. As the meat rests, the juices will soak into the bread. Top with tomato sauce, yogurt and the peppers, and serve with the extra caramelized butter to drizzle over all.
* I bought just 2 lbs. of steak and it fed our family of four nicely, but please note, we have two small children and we ate all of it, so 3 lbs. might be a good idea if you're trying to feed four adults.