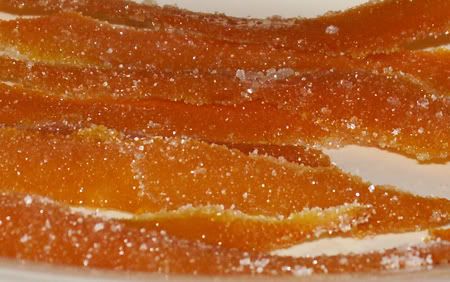 Excellent in baked goods, as a topping for cakes and cookies, and delicious by themselves.
From The New Basics Cookbook by Julee Rosso and Shiela Lukins
makes 4 doz.
3 oranges
2 lemons
3 cups water
2 cups sugar
1/4 cup Grand Marnier liqueur
3/4 cup raw or granulated sugar
1. Cut the oranges into eight sections and remove the pulp from the peel. Using a sharp paring knife, cut away as much of the white pith as possible from the peel, and cut the remaining zests in half lengthwise. [note: if you know you're just going to chop them up later anyway, it's way easier to use a vegetable peeler to peel off strips sans pith]
2. Place the orange zests and half of one of the lemons in a large saucepan. Add water to cover, bring to a boil, and boil for 15 seconds. Drain, rinse under cold water, and drain again. Discard the lemon half.
3. Repeat this process two more times, each time covering the zests with fresh water and adding another lemon half.
4. Combine the three cups water and the sugar in a saucepan, and cook over medium heat until the sugar has dissolved. Add the zests and the remaining lemon half. Bring to a gentle boil and cook for 15 minutes.
5. Remove the pan from the heat and add the Grand Marnier. Leave the zests in the liquid, loosely covered, for at least 12 hours.
6. Remove the zests from the liquid, and set them on paper towels to drain. Roll them in the sugar, pressing it into the zests. Allow them to dry slightly before serving. Store the zests in an airtight jar.