Just in time for sweater weather to be over, I've finished the sweater for my son (that I started in February). Fortunately, it was cold and rainy this past weekend, and I suppose there's a thin chance he won't grow out of it before October.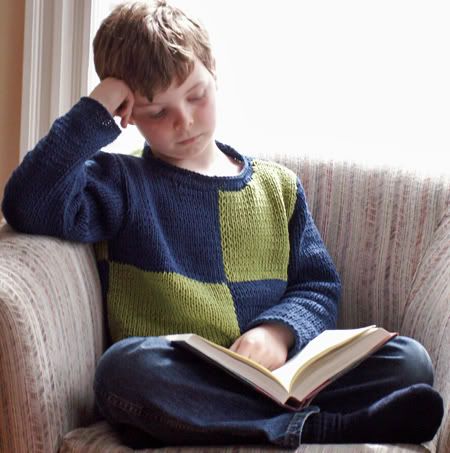 Of course, I totally ran out of yarn and had to run out and buy another skein and still managed to run out of that before I could entirely finish the collar, but it turned out all right in the end. The pattern is from The Yarn Girls' Guide to Knits for Older Kids, by Julie Carles and Jordana Jacobs, and it worked out okay, although I again had to totally rework the sleeves because theirs were way too short and wide. This was the first time I'd done set in sleeves, and they were a bit more work than the drop sleeves, but not too bad.
I've also finished a bag I've been working on for a very long time, but I'm not showing it off because I again ran out of yarn and so the handles are very short, and while it'll work for its intended purpose (holding knitting stuff), it's extremely homely.