My very thoughtful kids gave me knitting books for Mother's Day (and yarn, see below), and then I bought myself another one because you can never have too many knitting books.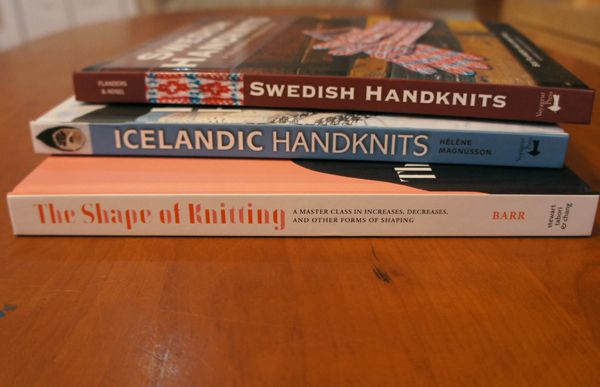 Swedish Handknits, by Sue Flanders and Janine Kosel and Icelandic Handknits by Helene Magnusson and Elin S. Sigurdardottir are part of a series, (along with Norwegian Handknits by Janine Kosel, Sue Flanders and Laurann Gilbertson, which I already own) of knitting books that focus on traditional crafting techniques and styles, inspired by museum pieces and folk costumes. The gloves featured on the cover of Swedish Handknits incorporate the motto: "One lifetime isn't long enough for all the things I'd like to do", which I may have to get tattooed on my forehead.
The Shape of Knitting by Lynne Barr is yet another fantastic book by a knitting genius. I loved her Reversible Knitting, and I can't wait to get into this one (spoiler alert: I've actually already made one of her headbands with some leftover yarn, because I was that excited).
The kids also gave me some yarn, because we we in JP Knit & Stitch on Mother's Day and I specifically couldn't resist a pink yarn called 'Molly Ringwald'.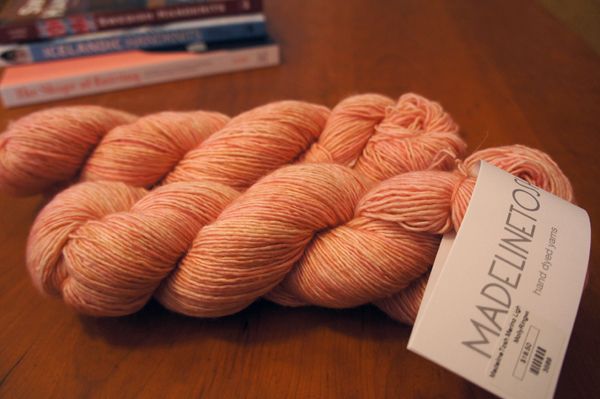 I considered making an awkward-looking dress with it, but instead started on a Helix Scarf:
The scarf pattern is inspired by seaweed, and it does look a bit kelpy normally, but in this photo I think it looks more like a trilobite or maybe a nudibranch.