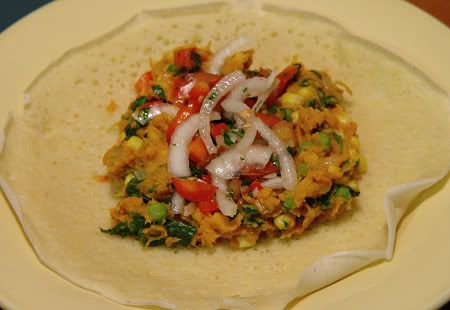 Unlike normal people, I rarely find myself acquiring cookbooks by just going to a book store and buying them. Sometimes people buy them for me as gifts, quite a few I've gotten through a catalog service that gives you six for a penny and then you only have to buy two more, especially since I always forget to send in the card that tells them not to send you this month's selection. Fortunately for me, most of these accidental cookbooks have been good, and the food has justified the forgetfulness.
World Food Café: Global Vegetian Cooking, by Chris and Carolyn Caldicott, made its way into my kitchen by way of our local library's book sale, which always has a few fantastic finds if you get there early enough. No one in our nuclear family is a vegetarian (although my mom is, and my husband used to be) but we do love the veggies, and we don't go around feeling deprived if there's no meat in the center of the plate.
This dish makes its way into the book via a camp cook in the Mkomazi Game Reserve in Tanzania. The authors note: Gathering the ingredients took about half an hour; sitting around in the bar meeting all his friends over several beers took the rest of the afternoon.
Even though it's not strictly required, I always make the sweet potatoes and the pepper relish together; the sweet potatoes are rich and sweet, and the pepper relish is spicy and tangy and they complement each other perfectly. The faux-injera (faux because the recipe I usually make is hardly authentic; injera is an Ethiopian flat-bread) is my own addition, just because I love it and I'll take any excuse to make it. Plus, who doesn't love eating with their hands?
Make the pepper relish first if you have time, because it tastes better if it sits awhile. If you don't have time, you can get away with making it while you're cooking the onion and sweet potato.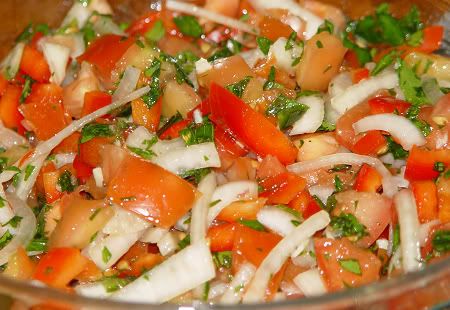 Pepper Relish
3 garlic cloves
3 fresh red Thai bird or serrano chilies
4 tomatoes, chopped
1 onion, chopped
1 large red bell pepper, seeded, deribbed and chopped
Handful of fresh parsley sprigs, stemmed and chopped
Juice of 1 lemon
Salt and pepper to taste
The recipe in the book says to blend all the ingredients in a food processor, but I like to just chop everything up, so it's kind of more of a salsa than a relish. In my version, I seed and derib the chilies and mince them, along with the garlic cloves. It's really up to you which you prefer.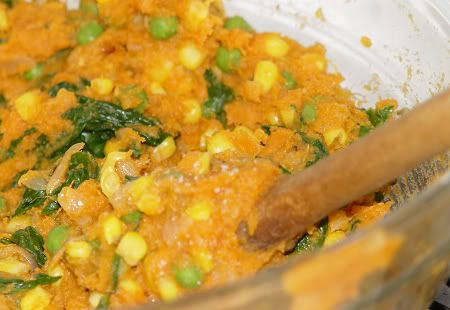 Cardamom-Mashed Sweet Potatoes
Serves 4 to 6
1 sweet potato (about 8 oz.) peeled and sliced
1 1/2 cups corn kernels
1 cup peas
1 small bunch spinach, stemmed and chopped
3 Tb butter
1 large onion, sliced
1 tsp ground cardamom
1 tsp honey
Salt and pepper to taste
The recipe as it's written in the book has the annoying trait of waiting till almost the end of the text to mention that you need to carmelize the onion, so I'm putting it right up front in an effort to hopefully minimize the amount of cursing involved.
1. Melt the butter over low heat and add the onion. Cook until it is well carmelized.
2. Cook the sweet potato in salted boiling water until tender. Drain (or remove with a slotted spoon so you can re-use the water for the next step).
3. Cook the corn and peas in salted boiling water until tender (or, if you're using frozen like I often do, until thawed). Just before the end of cooking, add the spinach to wilt it briefly. Drain.
4. Combine the sweet potato and onion, sprinkle with the cardamom, salt and pepper. Mash, adding more butter if desired. Add the other vegetables and the honey and mix. Serve hot, with the relish.